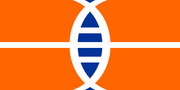 The
Republic of Pacifica
is comprised of the West Coast states of the former United States of America. They are allied with the Asian nations, and believe that though genetic engineering humans will be able to adapt, or evolve to the global climate changes.
---
The Pacifican Troops are citizens of the Republic of Pacifica called on by General Nathan Sheridan to lend a hand in the ongoing civil war against the Atlantic Alliance and protect their Homeland. The citizens who do not enroll in the military are citizens who just mind their business with no interest in the civil war going on. They believe they can better protect their lives with the extra augmentation. The ranks of the Pacifican army are filled by young people to war hardened veterans. Who are about to do any thing in defense of the Republic of Pacifica.
---
Ad blocker interference detected!
Wikia is a free-to-use site that makes money from advertising. We have a modified experience for viewers using ad blockers

Wikia is not accessible if you've made further modifications. Remove the custom ad blocker rule(s) and the page will load as expected.